Traditional Gnocchi (Potato Gnocchi)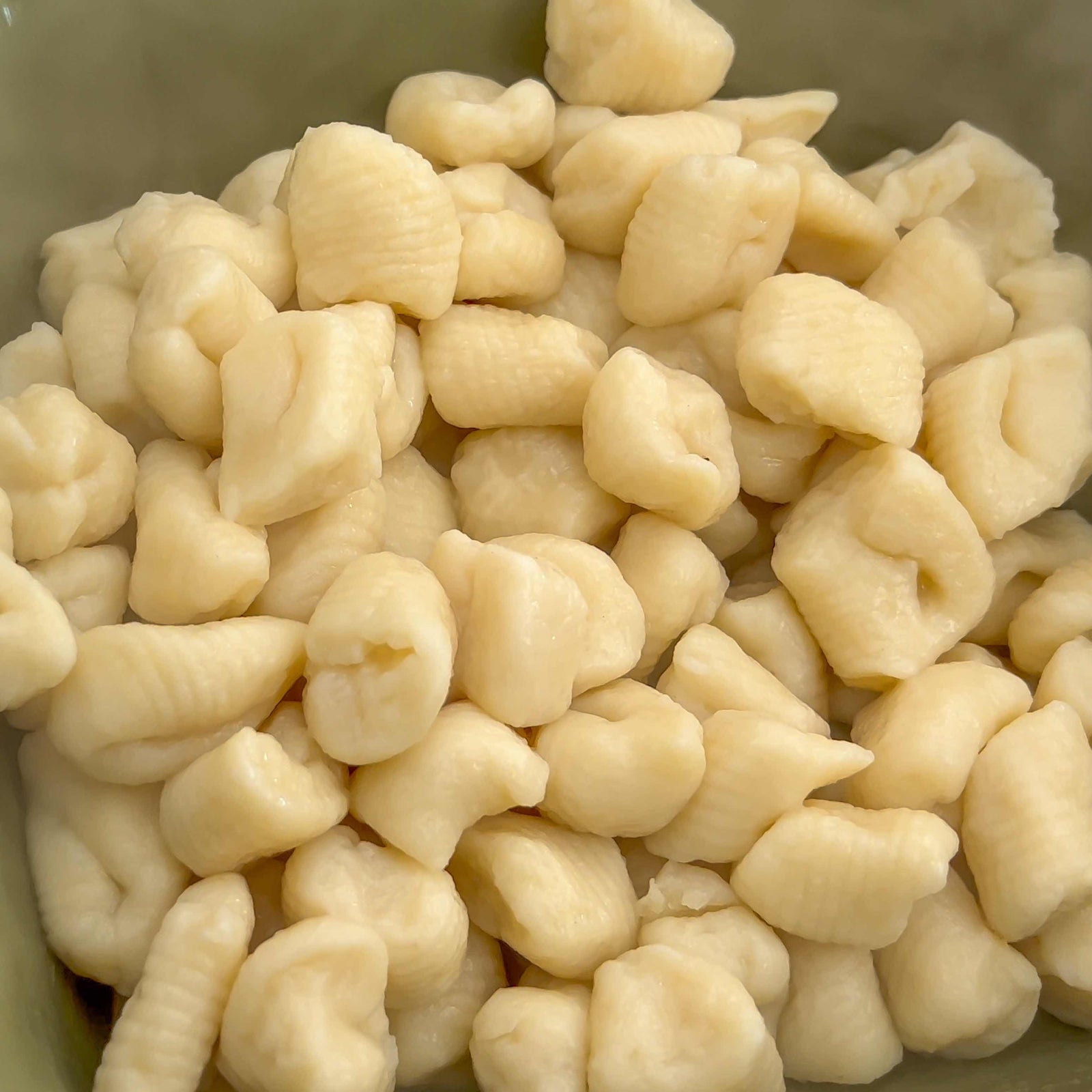 WATCH US make this amazing recipe on YouTube!
Potato Gnocchi
Serves 4-6
Ingredients:
2 1/2 lbs Russet potatoes (medium, same size so they cook evenly)
2 cups flour plus extra for dusting
2 eggs
1 tsp salt
Instructions:
1. Bake the potatoes in a 350 degree oven for 45 minutes to 1 hour. Rinse potatoes and fork prior to putting on baking sheet. Check to make sure potatoes are fully cooked before taking out.
2. Remove potatoes from the oven and slice in half. Let cool for a few minutes. In the meantime, measure out your flour, set aside. Whisk the eggs and salt together, set aside.
3. Put a small pot of water on the stove to boil.
4. Lightly flour your surface. Using a ricer, spoon out the potato meat, leaving the skin and put into a ricer. Rice the potatoes onto the floured surface.
5. Once all potatoes are riced, create a well in the center of the potatoes. 
6. Add the egg mixture to the well and half of the flour. Mix together using your hands. Add flour until it comes together in a smooth ball. NOTE: You may not use all of your flour, so use as little as possible to start - you can always add more.
7. Once you have formed a smooth ball, take a little piece of dough, roll it into a ball and drop in the boiling water. This is to check texture. Once the gnoccho has popped to the top or after a couple of minutes, take it out of the water. Now you want to check for:
Shape. Did it change shape in the water? If so, there is not enough flour in your mixture.
Texture. Push down on it. Does it spring back up like a pillow or does it get squashed and disappear? If it springs back, your texture is looking good. If it disappears, you need more flour.
Taste. Taste it. Is is light and airy or grainy? Does it taste good? It should taste light and airy and good. If it is too bland you may want to add a little more salt. If it is grainy, maybe a little more flour.
8. If your gnocchi are perfect, you can move to step 10. 
9. If you need to add more salt or flour, do so and knead back into a smooth ball. NOTE: Typically you will be using most of the 2 cups of flour. Test again in the water.
10. Once ready, cut pieces and roll into long symmetrical snakes. Cut into 1/2" - 3/4" rectangles, making sure to make them all the same size as best you can.
11. Optional. You can use a gnocchi tool to create a hole and ridges to help trap the sauce or you can cook them as is. A fork is also an option if you don't have the gnocchi tool.
12. Flour the gnocchi as you go liberally. Put on a baking sheet, making sure to keep them separated on the sheet. NOTE: If you want to cook your gnocchi later, you can put the baking sheet in the freezer uncovered until the gnocchi are frozen (about 30 minutes). Once frozen completely, you can take off of sheets and store in ziplock bags until you want to cook them. Follow the cooking instructions with frozen gnocchi. Do not defrost before cooking.
13. Put a pot of water on to boil and salt it so it tastes salty like the sea.
14. Once water is boiling, drop the gnocchi in small batches into the water.
15. Once all of the gnocchi rise to the top, use a spider whisk to remove that batch and put into serving bowl. Continue this process until you have cooked them all.
16. Add a sauce of your choosing. Our favorites are Pomodoro, Pesto and Brown Butter and Sage.
Buon Appetito
---