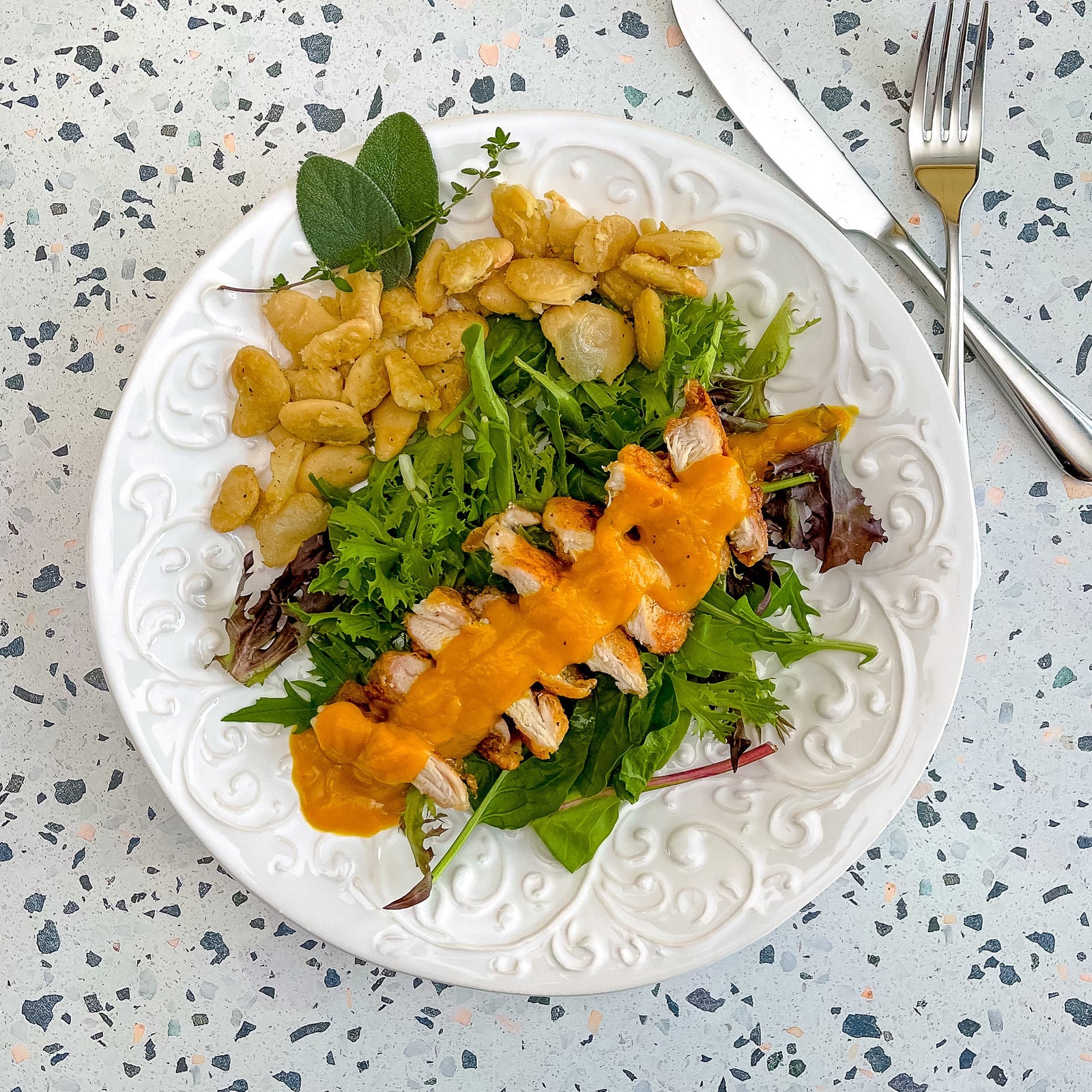 Pollo alla Zucca (Pumkin Chicken)
The perfect dish to welcome Fall. The wonderful flavors of pumpkin combined with our Smoked Spice Sea Salt transform traditional harvest flavors into a smoky surprise.
Serves 4-6
3 lbs. Boneless Skinless Chicken Thighs
1 cup Pureed Pumpkin
1/2 cup Coconut Milk (not low-fat)
1/4 cup Olive Oil + 2 Tbsp for Beans
1/4 cup Butter (or Vegan butter)
2 tbsp Corn Starch
2 tbsp Flour
2 tsp Smoked Spice Salt
1/2 tsp Kosher Salt
1/2 tsp Freshly Ground Pepper
2 15.5 oz Cans White Beans
1 Pack Mixed Greens
Sprig of Thyme and a few Sage leaves (optional)
For the Chicken:
Gently pound chicken thighs to even out thickness and set aside. (put the thighs on parchment paper folder it over and pounding to reduce mess)
In a separate bowl, combine corn starch, flour, salt and pepper.
Dust each chicken thigh with the flour mixture and set aside.
To Cook:
Heat olive oil and butter in a sauté pan on low heat.
Once olive oil and butter are melted, turn heat to Medium High and add chicken thighs. You may have to do in two batches.
Cook for about 5 minutes on the first side or until browned.
Turn and cook for another 3-4 minutes. Make sure internal temperature is 165 degrees.
When chicken is done, remove and place on a plate with a paper towel. Slice each thighs into 4 strips.
For the Puree:
In a sauce pan, add pumpkin puree, coconut milk, Smoked Spice Sea Salt and 1 tsp of the butter.
Whisk ingredients over low heat until smooth. Make sure you do not bring to a boil or the sauce will break. Keep on low until ready to transfer to chicken.
For the Beans
While the meat is cooking, heat up 2 Tbsp of olive oil with salt and pepper to taste on Medium heat in a sauté' pan until they are lightly browned. Gently flip beans and toss to get both sides.

 

When chicken is done, remove and place on a plate with a paper towel. Slice each thighs into 4 strips.
To Finish:
Add about 2 handfuls of mixed greens on a plate.
Add chicken strips on top of greens.
Add butter beans to side.
Spoon Smoked Spice Pumpkin Sauce on the chicken liberally and serve.
Garnish with sage and thyme - optional.
---