Chocolate Caramel LOVE Cookies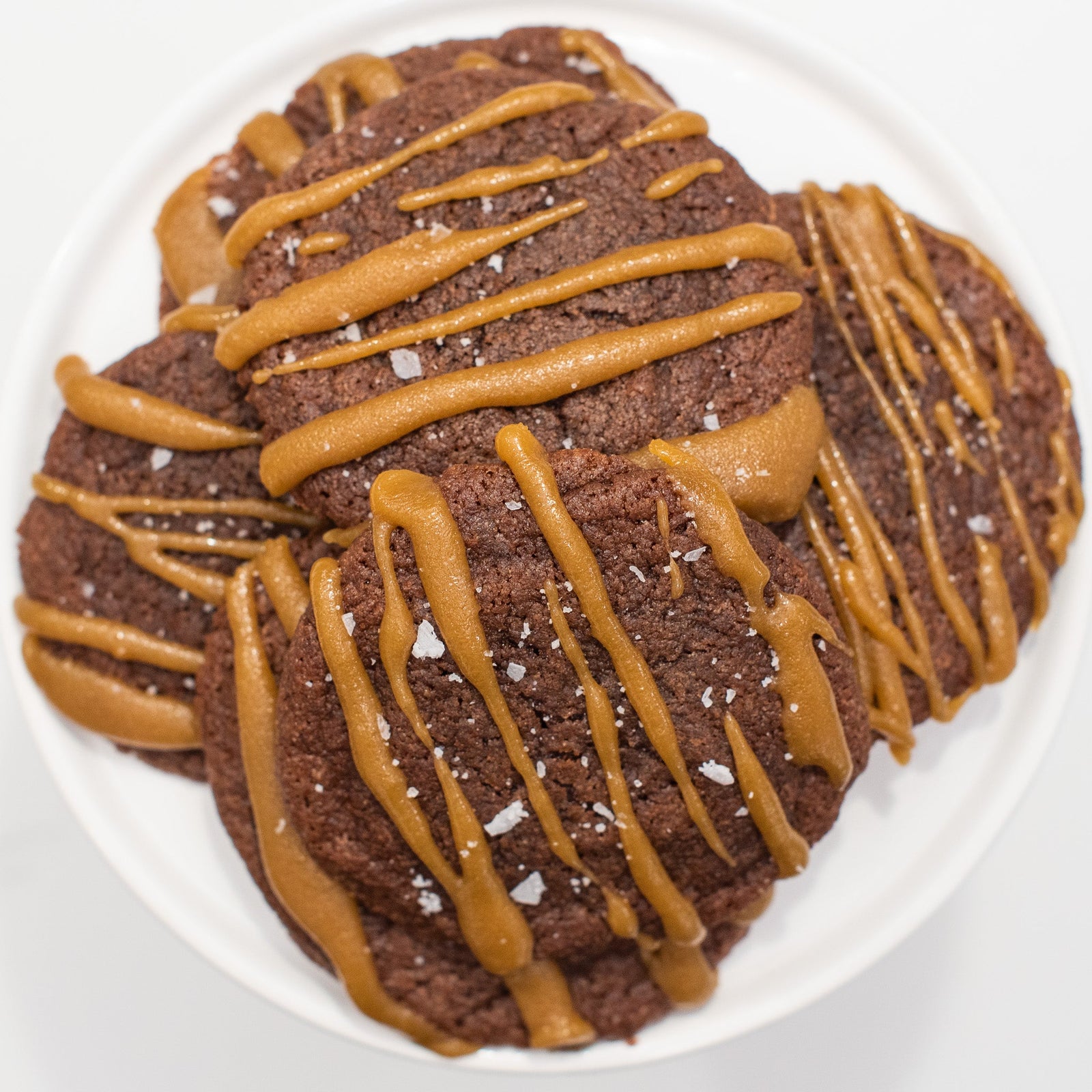 Ingredients
For the Cookies
1 1/4 cups unsalted butter softened
2 cups sugar
2 eggs
2 tsp vanilla 
2 cups flour
1/2 cup unsweetened cocoa powder
1 tsp baking soda
1/8 tsp salt
1 Tbsp Sea Salt Essential Blend for sprinkling on cookies
For the Caramel
1 cup light brown sugar, packed
1/4 cup milk
1/2 cup unsalted butter
1 tsp vanilla
Instructions
Make cookies first.
1. Using a mixer, cream butter and sugar.
2. Add eggs one at a time to combine.
3. Add the vanilla and combine.
4. In a separate bowl, add all dry ingredients and whisk to combine.
5. Slowly add the dry mixture just until blended.
6. Using hands, roll into balls and space evenly on cookie sheet.
7. Bake on 350 degrees for 10 minutes.
8. Take out of oven and drop sheet onto counter so the cookies flatten. Cool on cookie sheet for a couple of minutes before placing them on a cooling rack.
Make the caramel.
1. In a saucepan, combine brown sugar, milk, butter and vanilla. 
2. Bring the mixture to a boil. 
3. Boil 1 to 2 minutes until mixture reaches desired thickness.  Caramel will thicken as it cools. 
Prepare the Cookies
1. Once the cookies are cooled, leave in circles or cut into hearts and set aside while you make the caramel.
2. Drizzle the caramel sauce onto the cookies using a spoon.
3. Top with a sprinkle of Sea Salt Essential Blend and let set for about 30 minutes.
4. Enjoy
---