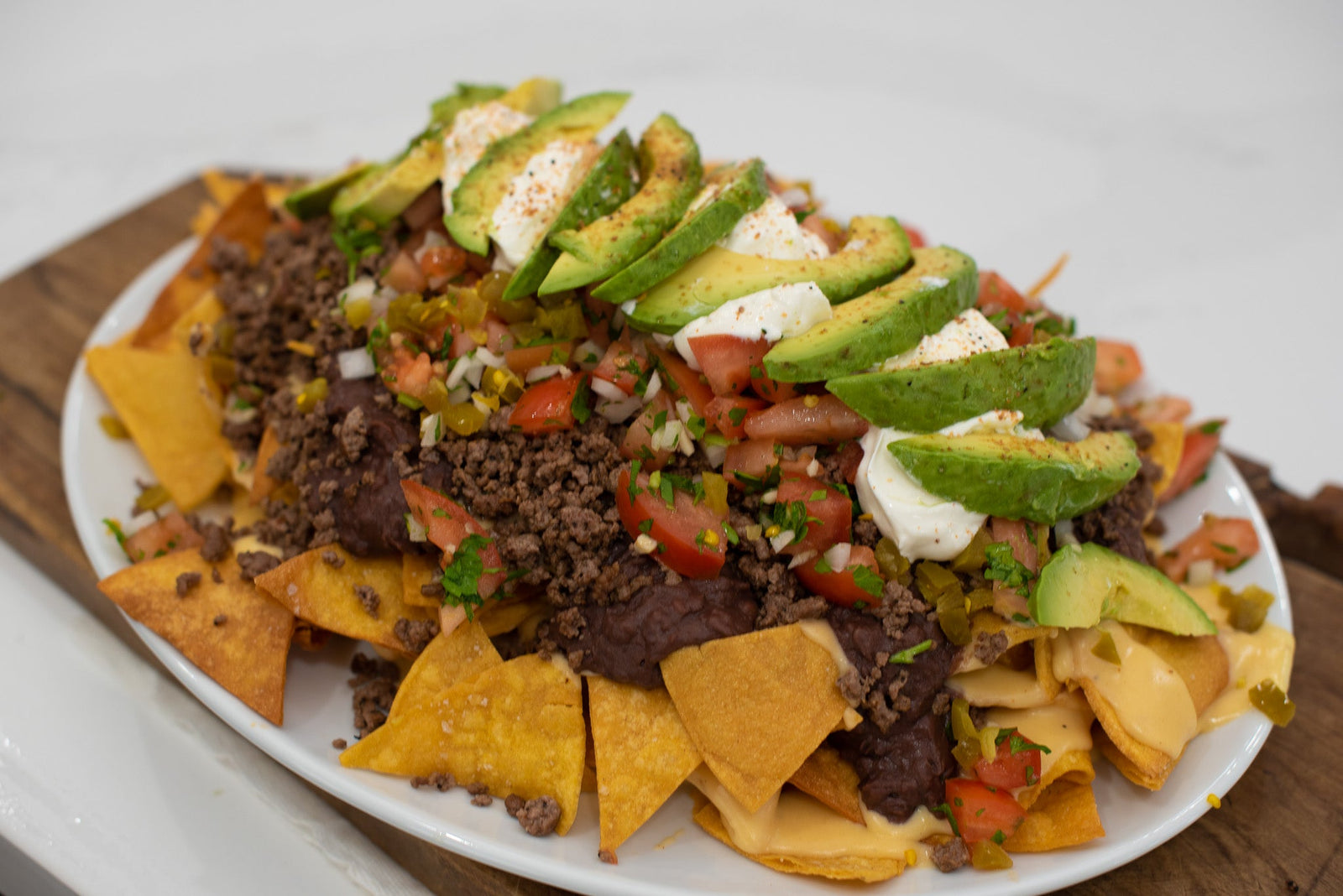 Stella's Smokey Nachos
Serves 6-10
Stella's Smokey Nachos
Serves 10-12
Ingredients
For the tortilla chips:
20 6" corn tortillas
Vegetable oil for frying
For the cheese sauce:
2 cups milk
4 tablespoons butter
4 tablespoons flour
3 cups shredded cheddar cheese
1 tablespoon Smoked Spice Sea Salt
For the meat:
1 lb. ground beef
1 tablespoon Smoked Spice Sea Salt
1 teaspoon Pepper Essential Blend
For the Pico de Gallo
2 cloves garlic chopped
1/2 cup white onion chopped
3 tablespoons cilantro chopped
1 1/2 cups tomato cut into small cubes
1 teaspoon Sea Salt Essential Blend
Other:
1/2 cup sour cream
1-2 avocados sliced.
Black refried beans heated.
Instructions
1. Make the tortilla chips first. Fill deep pan with oil, about 1/2" - 1" deep so chips can be fully emerged. Heat oil to 350 degrees or test with a single tortilla chip to make sure oil is ready. Cut the tortillas into 8 equal triangles. Cook in two batches. Drop tortillas into oil and cook for just about 1 minute. Using a slotted spoon, remove and place into a bowl lined with a towel. Sprinkle with Sea Salt Essential Blend to taste. Repeat this step and then set chips aside.
2. Make the meat. In a frying pan, cook the meat on medium-high heat. Once cooked, drain a little of the oil and then add the Smoked Spice Sea Salt and Pepper Essential Blend. Set aside.
3. Make the pico de Gallo. Prep all the vegetables and put into a bowl, add the Sea Salt Essential Blend and mix. Set aside.
4. Make the cheese sauce. Begin by melting the butter in a sauce pan. Once melted, add the flour and combine with whisk leaving no chunks. Add the milk and mix with whisk on and off until it begins to thicken (about 2-3 minutes). Add the Smoked Spice Sea Salt and mix in. Finish by adding the cheese and stir until melted into a cheese sauce.
5. Now you are ready to put it all together. Layer the bottom of a dish with half of the chips. Pour half the cheese sauce over the first layer. Then add the rest of the chips and pour almost all the rest (save some to drizzle on top). Next, spoon the beans over the chips. Add the meat. Add the pico de Gallo. Spoon the sour cream onto the top. Add the sliced avocados and sprinkle with Smoked Spice Sea Salt. Drizzle a last small layer of cheese and ENJOY!
---